SYNOPSIS

This cartoon may be too scary to make you laugh out loud, but it is worth considering. How are the "make America great again (MAGA)" voters assimilating the fact that their president has done absolutely nothing in almost a year now to improve their financial situation? In fact he's accomplished nothing at all on any front! But I understand that he's still golfing regularly. There are still reasons for the stock markets to continue higher, but that's in spite of the worst president in American history, not because of him. Meanwhile most of the stock markets worldwide are outperforming US equities. We worry that the MAGA folks won't accept the fact that they were wrong, and seek violent means to express themselves instead. We're not sure the markets would shrug that off.
PTP… Our ProfiTrend Portfolio APAR (annualized price appreciation rate) improved again to 123% from 86% a week earlier. The S&P 500 APAR and the S&P/TSX Composite Index APAR both dropped a few points from where they were last week.

Last Week in the Major Indexes… The Russell 2000 Index finally pulled back a bit on a one-week basis, but still leads the other major indexes on trend. All other major indexes had modest one-week gains last week.
Last Week in the Sectors… The bottom line is to avoid Telecommunication Services, Consumer Staples and Utilities within both the S&P/TSX Composite Index and S&P 500. Beyond that you'll need to look at the differences between sector preferences in Canada vs the USA.
PTA Perspective… Crash Course — Remembering October 19, 1987 (30th Year Anniversary Edition)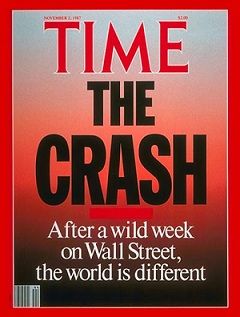 This is indeed the 30th anniversary of the worst crash in stock market history. On October 19th, yes, a single day, the DJIA plunged 23%. If you thought 2008 was a stock market, crash you have absolutely no idea what a stock market crash is. And I doubt if any of our readers were active investors in 1929. If so, we congratulate you on trading well into 100+ years of age. So, for all practical purposes, there really was only one stock market crash, and we walk you through it. All investors need to know what a real market crash is like; and hope that you'll never, ever see one for real in your lifetime.