SYNOPSIS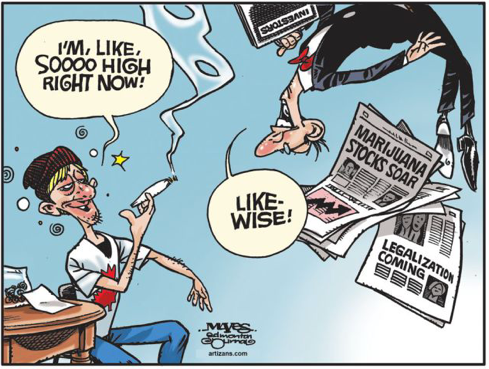 Whether you laugh at this week's cartoon or not, there is no doubt that cannabis stocks have been equity market leaders lately, with some of the strongest trend values. But this is almost totally a Canadian story. Don't waste your time looking for US pot stocks, when the biggest and best opportunities are north of the border. Most Canadian marijuana stocks are cross-listed in the US, so American investors can buy them too.
PTP… Our ProfiTrend Portfolio APAR (annualized price appreciation rate) rose to 352% from 343% a week earlier. The S&P 500 APAR gave up 7 percentage points, while the S&P/TSX Composite Index APAR lost 5 points.

Last Week in the Major Indexes… One week changes were fairly small last week in both directions. The S&P/TSX Small Cap Index had the largest decline over the week. The ranking of the trend values continues to favour US equities.
Last Week in the Sectors… With the exception of the Canadian Health Care sector (a very small group of stocks), the sector trend numbers generally favour US equities. The TSX-based Materials and Energy sector trends have turned negative.
PTA Perspective… Fairy Tale Stocks Rarely Have Happy Endings!
As a long-term critic of the media, especially business and investing media, Trump's obsession with "fake news" is very annoying. We take our criticism seriously and have always pulled together facts and figures and academic research to support our arguments that current media coverage is poor, and often harmful to investors. Trump, on the other hand, glibly claims that any media coverage that doesn't flatter him is "fake news". No evidence. No rationale. Just a claim that he can't be wrong, because he is president. That's sad, but more importantly, it undermines those of us who take our critique of the media seriously. This week we do our best to simply lay out some of our arguments for rational media criticism, and hope that you'll see the difference between that and Trump's meaningless phrase, "fake news". We specifically focus on "fairy tale stocks"… the media darlings that capture the imagination of long-term investors.